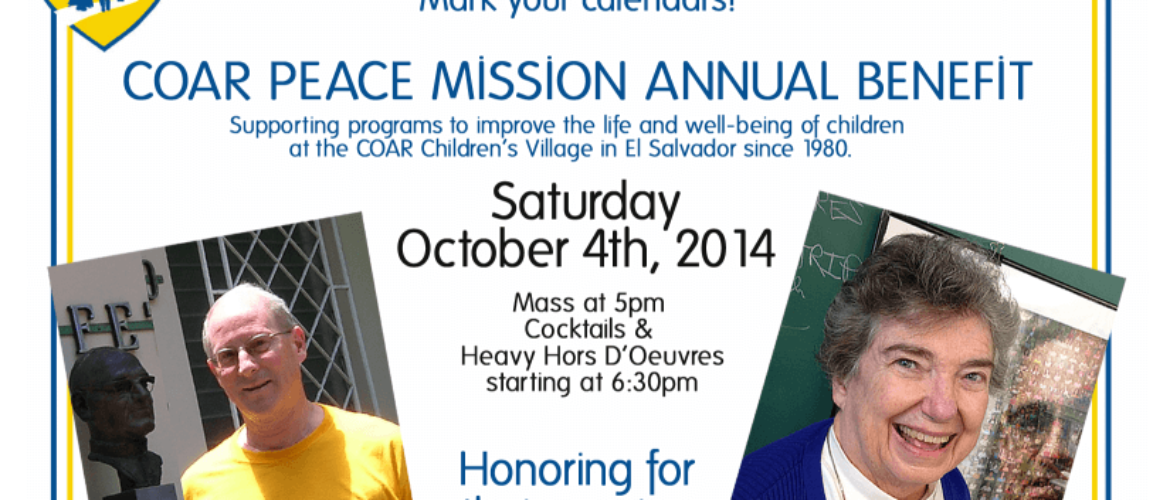 COAR 2014 Benefit Honoring Father Bob Sanson & Sister Sheila Maria Tobbe: Total Success!
Look up the words "inspirational role model" in any dictionary and you will find a picture of Father Bob and Sister Sheila Marie.  So, it seemed only appropriate that COAR Peace Mission chose to honor both of them at our 2014 Annual Benefit held on October 4th, 2014.
The celebration began at 5pm with a Mass in the chapel of Saint Borromeo Seminary.  The crowd of over 210 attendees then made their way to the Founders Room for a 630pm Reception and Ceremony recognizing the leadership and service of both of these dedicated Board Members.  A slide show featuring COAR children throughout the years cycled in the background as guests mingled, enjoyed a mashed potatoe toppings bar, perused the 11 donated raffle baskets, congratulated Sister Sheila and Father Bob and rejoiced together in the AMAZING social justice and humanitarian project which is COAR Children's Village.
Now more than ever, El Salvador needs COAR.  New government regulations (designed to improve foster care facilities) have caused dozens of religious or small non-profit foster care centers to close – leaving their child populations in search of new homes.  In addition, the gang-related violence and extreme poverty threaten children throughout the country leading so many to risk so much to find a better life in the North.  While the Civil War is over and civil government does rule, the economy and gang-violence leave so many kids more vulnerable then ever.
Knowing this stark reality, Sister Sheila Marie and Father Bob have spent over a decade each as Board Members of COAR Peace Mission. Father Bob's connection to El Salvador dates back to the early 1970s and Cleveland's Latin American Mission team.  While the movie Saturday Night Fever played in the cinemas, Father Bob was making connections between Cleveland Parishes and the CLAM team working in El Salvador.  In the 1980-90s, Sister Sheila Marie joined the CLAM team and served in El Salvador – working directly with the women and children suffering through the Civil War.
Throughout the years, they have traveled to El Salvador to support the local people, the local Church and the CLAM members serving in the country.  Beyond their own personal sweat, financial support and commitment, they have brought the Gospel message of solidarity, love, and justice to Parishes across the area.   Oscar Romero said "If they kill me, I will be reborn in the Salvadoran people" and "A Bishop will die but the Church of God which is the People will never die".  But, it has been Catholic Fathers, Sisters and Brothers like Father Bob and Sister Sheila who have carried his message (God's message) to the people of the United States building solidarity and support for the Salvadoran people for decades.
Everyone involved with COAR Peace Mission wishes to thank ALL OF OUR DONORS who gave so generously that night.  This Gospel inspired service that truly saves lives would not be possible without your support.    We thank all of our donors and friends!