Dec. 1, 2015 Giving Tuesday – Please Support COAR Peace Mission
Celebrating 35 years of protecting, educating, and healing impoverished children in El Salvador
---
Throughout
the fall to:
Dec. 2, 2015 Co-Sponsored by COAR
Bearing Witness: The Living Legacy of the Churchwomen of El Salvador – 35th Anniversary
Events through-out fall semester at our local Catholic Colleges:
Thursday, September 17, 2015 at 7:00 p.m.
An Evening Lecture with Margaret Swedish hosted by John Carroll University
"LIKE GRAINS OF WHEAT-THE ENDURING LEGACY OF MAURA, ITA, DOROTHY, AND JEAN"
Thursday, October 22, 2015 at 7 p.m.
An Evening with the Missionaries hosted by Ursuline College and IRTF
MEET FORMER MEMBERS OF THE CLEVELAND MISSION TEAM & HEAR THEIR STORIES
Tuesday, November 17, 2015 at 6 p.m.
A Film, Dinner, and Discussion hosted by Notre Dame College
"CHOICES OF THE HEART-" WATCH, EAT, AND DISCUSS
Wednesday, December 2, 2015 at 7 p.m.
A 35th Anniversary Prayer Service hosted by the Ursuline Sisters of Cleveland
BEARING WITNESS: THE LIVING LEGACY OF THE CHURCHWOMEN OF EL SALVADOR
All events are free and open to the public. Registration is required only for the December 2 event.
Sr. Dorothy with the refugee children that would become the first COAR children, 1980: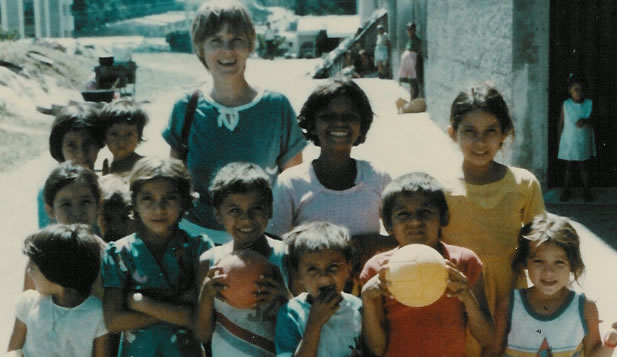 ---
Dec. 6, 2015 Commemoration of Salvadoran Martyrs
Church of the Resurrection
32001 Cannon Rd., Solon 44139
Sunday, December 6, 2015 at 6:30pm
Pray. Remember. Give Witness.
Rev. Mike Stalla was ordained in 2003 as a priest of the Diocese of Cleveland. After
ordination he served as parochial vicar of St. Mary Parish in Painesville and then at St.
Raphael in Bay Village. He was then assigned to our Diocesan Mission Team in El
Salvador where he served until this past June. Fr. Stalla is presently serving as Pastor of
Ss. Cosmas and Damian Parish, Twinsburg while remaining a very active advocate for
children and education in El Salvador. In this vein he joined the COAR Board of Trustees in 2015.
All are welcome. An informal social will follow the prayer and program.