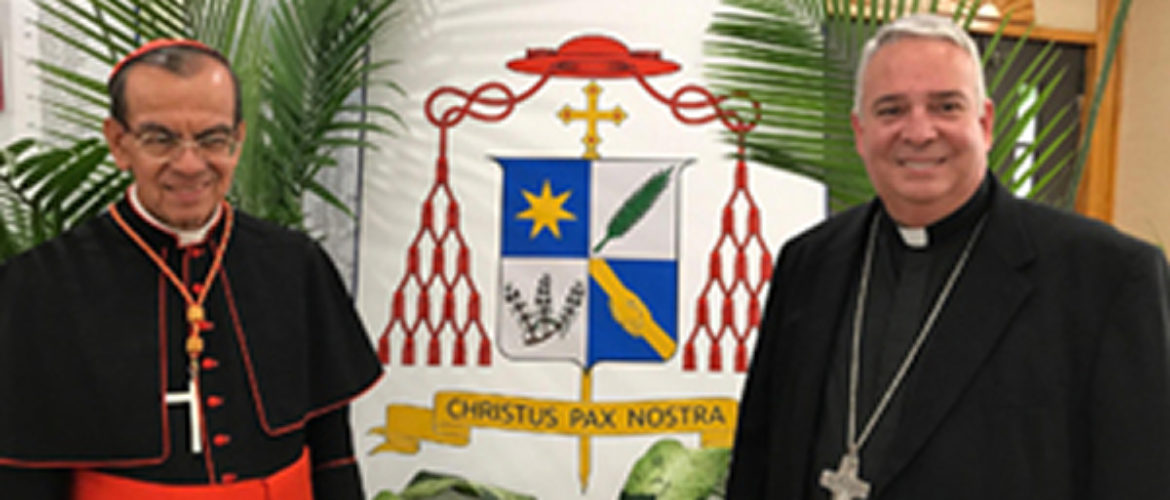 More About Cardinal Rosa Chavez
COAR, the Community of Oscar A. Romero, is the oldest extant organization in the world to carry the name of Oscar Romero with the approval of the Archdiocese of San Salvador. Oscar Romero will be canonized in the fall of 2018.
Note from COAR's Executive Director: On April 28th, COAR honored Romero's long-time friend and colleague Cardinal Gregorio Rosa Chavez of El Salvador. During the four days that he was in Cleveland Cardinal Rosa Chavez recast everything that I knew about COAR into a vibrant model of solidarity. He was intimately involved with the Cleveland Mission Team in El Salvador from its very beginning as a seminarian in 1964. He grasped the promise of solidarity felt by every person who would later be connected by the mission: priests, sisters, lay people, both in El Salvador and the US.
This collaboration energized the parishes and called people to live the Gospel. But, as the civil war escalated, living the Gospel in El Salvador, meant putting one's very life at risk. This Gospel call drew in the Cleveland Mission Team until they, too, became Salvadoran martyrs. Rosa Chavez described changing from seminary rector to overseeing the largest refugee camp that Romero established. He vividly brought to life the work that he and Fr. Ken did to help the neediest children move from that chaotic camp to the safety of COAR. Since I have met several of the children (now adults) who survived those dark ,early days, I know how vital that work really was. The Cardinal returned to COAR year after year so that he could continue to be present with these children as they were confirmed into the Church – reinforcing COAR's vital role in the social fabric of the region.
I expected Cardinal Rosa Chavez to be kind, dignified, and knowledgeable. But, I was completely enchanted by his easy manner of talking about the past. I was impressed (and grateful) for his professionalism as we prepared our presentations. I will forever be grateful to him for showing how the efforts of so many in the past can serve as models for relieving the suffering of vulnerable, desperate, voiceless people, especially the current crisis of US-Salvadoran migration. His moral compass has never wavered, no matter the political climate, or the cost. He, Bl. Romero, and Pope Paul VI all embody Pope Paul's famous dictum: "If you want peace, work for justice."
Cardinal Rosa Chavez's speech:
[After thunderous applause] Thank you very much.
I love, very much, this Bishop Paul VI and Romero: teacher and disciple. Why do I love them? Maybe, they (will) decide to canonize them together, Romero and the Pope, on October 21st (2018) , we will know the reality on May 19th in Rome.
Let me say something to you – only 5 little ideas:
Pope John Paul II asks us to remember honestly the past, to live the present with passion and to be filled with confidence in the future.
Because of this, we have to remember that the Cleveland Mission began in the Diocese of San Miguel in 1964. That year, I was a seminarian and I met Father Thomas Sebian and the lay woman Rosemary in la Union, El Salvador.
Later, I met Father William Gibbons and Father Denny St. Marie in San Miguel and Chirilagua. I worked with both of them because I was a priest at that time. In San Salvador, I met Father Ken and Dorothy Kazel and Jean Donovan. I also met the Maryknoll Sisters Ita Ford and Maura Clarke. All four of them were martyrs.
There, I also met the priests from CLAM who came later such as Father Robert Reidy, Monsignor Richard Antall, Father Steve Vellenga, Father Joe Callahan, and Father Mark Reilly. There is one man that I would like to point out – that is Paul Schindler. He arrived in 1972 and no one has been able to convince him to come back to Cleveland since.
Now, I would like to talk about the present.
I would like to reflect a bit for all of you. First, I would like to express my great respect for Bishop James Hickey. He traveled many times to El Salvador and he had great love for our people. In Washington, he showed me the chapel that was filled with all of his memories and souvenirs from El Salvador. You can best summarize the experience of "Cleveland's Mission" in El Salvador in just one phrase: We receive so much more than what we give.
The Cleveland Mission teams have been transformed through their interaction with the Salvadoran people. They have also transformed the people in the different areas where they carried out their mission. Thanks to these missionary men and women the people have discovered their dignity and their mission as apostles of Christ.
Now, let's talk about the future.
This is a very unique experience and you have to study it in detail and with great depth. And, the very first copy of this report will be for our Bishop of Cleveland, Bishop Nelson.
This is an experience of martyrdom in two senses of the word: first, is in the most general meaning of a Christian testimony. The second meaning is a testimony of martyrdom through blood. This martyrdom has shaken (moved) deeply the country and the Church.
Let me end with a question for all of you. When are we going to start the process of canonization for the Four Churchwomen who shed their blood in El Salvador? [Cleveland Team members: Jean Donovan and Sr. Dorothy Kazel, OSU, and Maryknoll nuns: Ita Ford and Maura Clark]
Let me add: I learned during those years of wars that there are two ways of understanding El Salvador. One is what the politicians understand. The Golden Rule here is that this country doesn't have friends, it just has interested parties. But, in comparison, the Latin American People, that is a different story. They have compassion and the capacity for solidarity when they are well informed. This is what happens here (in the USA). You are very informed and that is why you are in solidarity with us. We are just one family. We are all brothers and sisters. We have only one future. It is the Kingdom of God, the Kingdom of Truth and Life, Justice, Love and Peace.
Thank you for your solidarity.
Click for more pictures and details of the event – and thanks to all who made it a great night for the COAR children!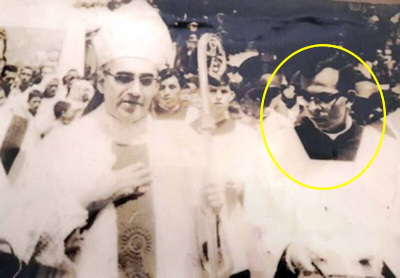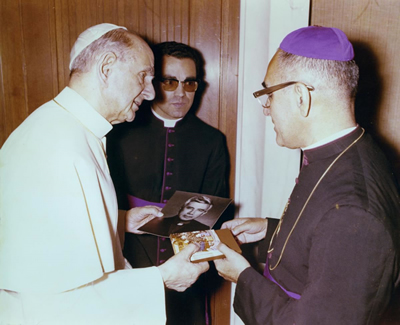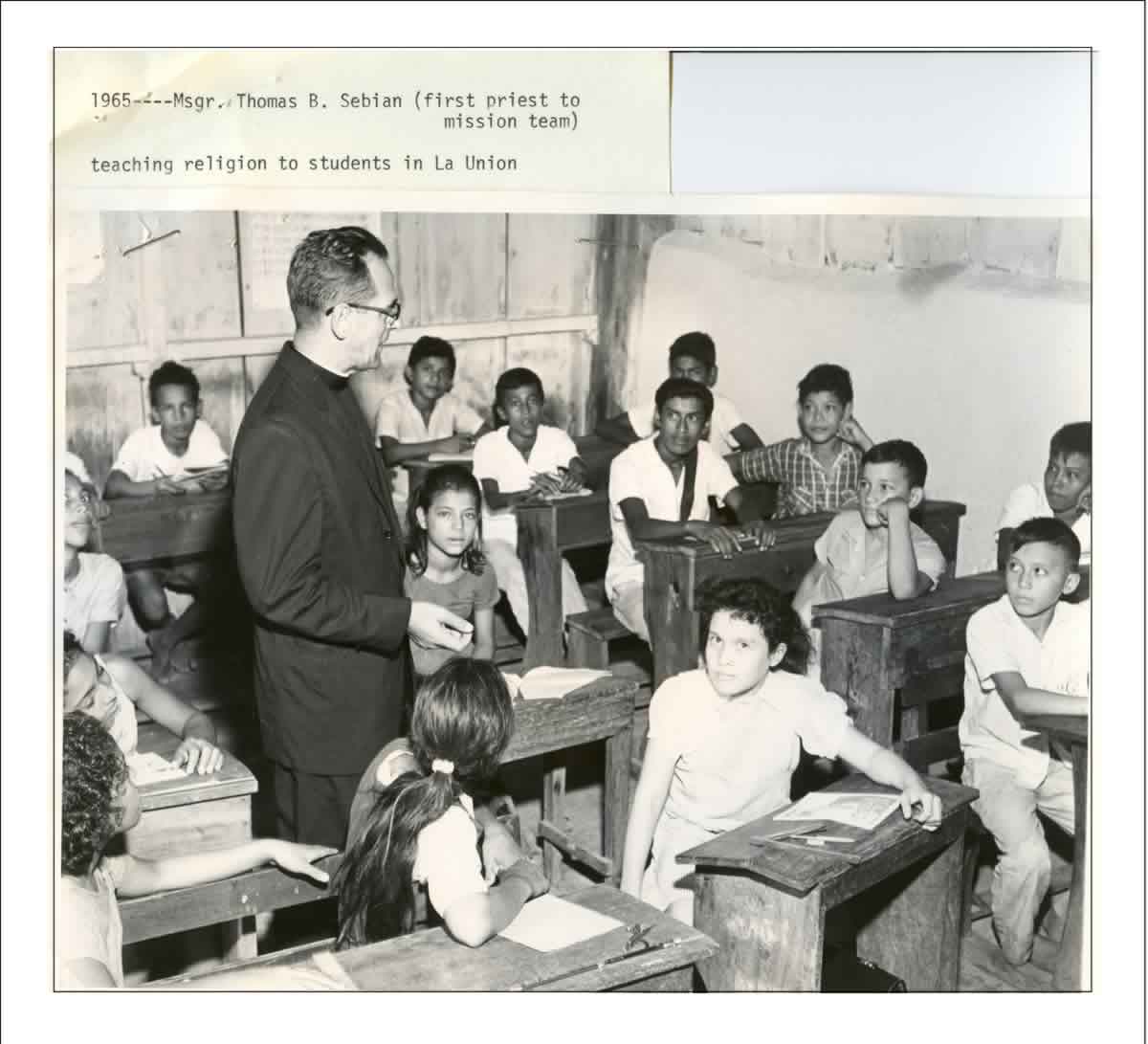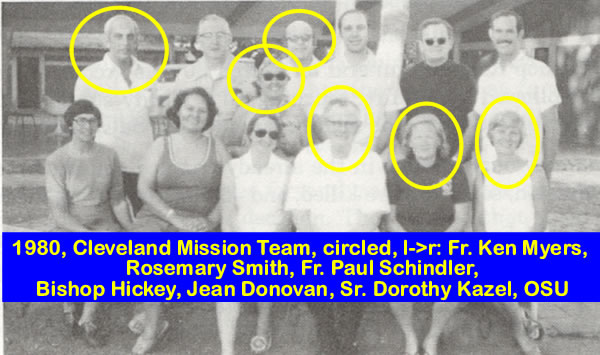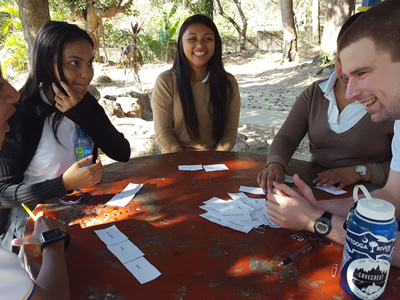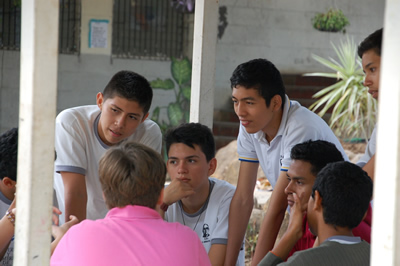 How did it all start? COAR was founded in 1980 by a priest from Cleveland who was serving in El Salvador. He took a few sick, traumatized, and abandoned children from a crowded refugee camp to his parish in Zaragoza, El Salvador, where women from the parish helped to care for the children. He was helped in this by Padre Rosa Chavez, rector of the seminary, San Jose de la Montaña, where Romero had established the first large refugee camp. Soon hundreds of children poured into the parish. The townsfolk mobilized kitchen and health services and the school swelled. Fr. Ken received the gift of a near-by coffee farm and began moving the children into small home-like cottages that were steadily built on the property. A clinic soon followed. The parish school migrated to new buildings. A large chapel, named St. Joseph (click to see lovely photos and read more about our Chapel repair project), to represent the father that so many children were missing, was built overlooking the 80-acre property.
Why 1980? The Catholic Diocese of Cleveland had sent priests, nuns, and lay volunteers to work in parishes in coordination with the bishops of El Salvador since 1964. In the late 1970's the political unrest that had been percolating for decades over issues of land use, poverty, and inequality, erupted in guerilla movements, government coups, and counter coups. Entering a state of emergency in 1977, the government used the army to suppress guerilla movements in the countryside. While both sides of the conflict engaged in violence, especially in the early years of the conflict, the overwhelming use of violence and deaths were at the hands of the army and government death squads. As massacres in the countryside increased, the refugee camps filled. When the Archbishop of San Salvador, Oscar A. Romero, was murdered on March 24, 1980, the camps were overwhelmed. That summer is when Fr. Ken realized that the neediest children were overlooked and he began his work. August 15, 1980 is considered COAR's Foundation Day
What to name the orphanage? After a government coup in El Salvador in 1977 and the revolution in Nicaragua in 1979, all politics in Central America was bound up in the anxieties of the Cold War and Communism. Fr. Ken wanted to send a clear signal that his work was allied with the Church and not any political movement. Fr. Ken first named the community the Pope John Paul II Center. However, within the year he renamed it the Community of Oscar A. Romero, COAR. He wanted Romero to be an example to the children of faith and courage in the midst of the conflict. The tragedy of the war had reached him personally, too, when, on December 2, 1980, his fellow Cleveland missionaries, Sr. Dorothy Kazel, OSU, and Miss Jean Donovan were brutally tortured and murdered by the army. They had all been admirers of Romero. They listened to his radio-broadcast sermons. They looked to him as an example of how to navigate the conflict and serve the poor. They had relied on his wisdom and courage for years.
Why COAR, the Community of Oscar A. Romero? Romero had been installed as the Archbishop of San Salvador, the capital city, in 1977, in hopes that his quiet and scholarly reputation would preclude the Church being drawn into political conflict. However, as he watched the brutal murders and repression of priests, nuns, catechists, and civilians, many of whom he knew personally and who were innocent of political subversion, he changed. He became the voice of the voiceless, a shepherd who could protect the people who could not avoid the violence all around them. He spoke out, by radio, in newspapers, by any means possible, against all perpetrators of violence and repression. He used his authority as Bishop to defend and speak out though he knew it put him in danger. He was murdered by an army marksman, while saying mass, on March 24, 1980. For that martyrdom he was proclaimed blessed by Pope Francis in 2015. He will be canonized as a saint of the Catholic Church in the fall of 2018. His legacy as an advocate for social justice is still felt in his example to oppressed people everywhere, in books and academic studies, and in movies and dramatizations.
Cardinal Jose Gregorio Rosa Chavez was ordained a priest in El Salvador in 1970. Romero became his friend and mentor as they worked together to respond to the war. Romero was viewed with suspicion by many of his fellow priests and bishops, but not by Rosa Chavez. After Romero's death Rosa Chavez was ordained an Auxiliary Bishop of San Salvador in 1982. He worked tirelessly to continue Romero's legacy of service, being a voice for the voiceless and powerless. He was instrumental in the peace process that brought the war to a close in 1992. Through the 1990's, as the country recovered, he continued to advocate for social justice for the poor. He was Romero's historian, a resource for scholars and social justice advocates, and defender Romero's legacy of Gospel justice independent of political agendas.
In the 2000's, as it became clear that economic recovery would remain weak and criminal gangs were growing, he worked to mitigate their violence. Members of the Cleveland Mission Team found a constant friend and pastoral example in Rosa Chavez. He was a friend to COAR's founder, Fr. Ken, until Fr. Ken's death in 2002. Rosa Chavez visited COAR many times, saying mass and providing spiritual support to the sisters, staff, and children of COAR. After being created Cardinal in 2017, he was invited to Long Island to help minister among Salvadorans including a visit to a prison holding Salvadoran gang members. His host was then Auxiliary Bishop Nelson Perez. Two months later Bishop Perez was installed as Bishop of Cleveland, where he will again act as host to Cardinal Rosa Chavez.
The work of COAR, Cardinal Rosa Chavez, Bishop Perez, the Cleveland Latin American Mission Team, and the legacy of Blessed Romero all continue to joyfully strive towards peace for the poor and voiceless – the peace that Pope Paul VI (1897-1978), also to be canonized this fall, so elegantly summarized:
If you want peace, work for justice.