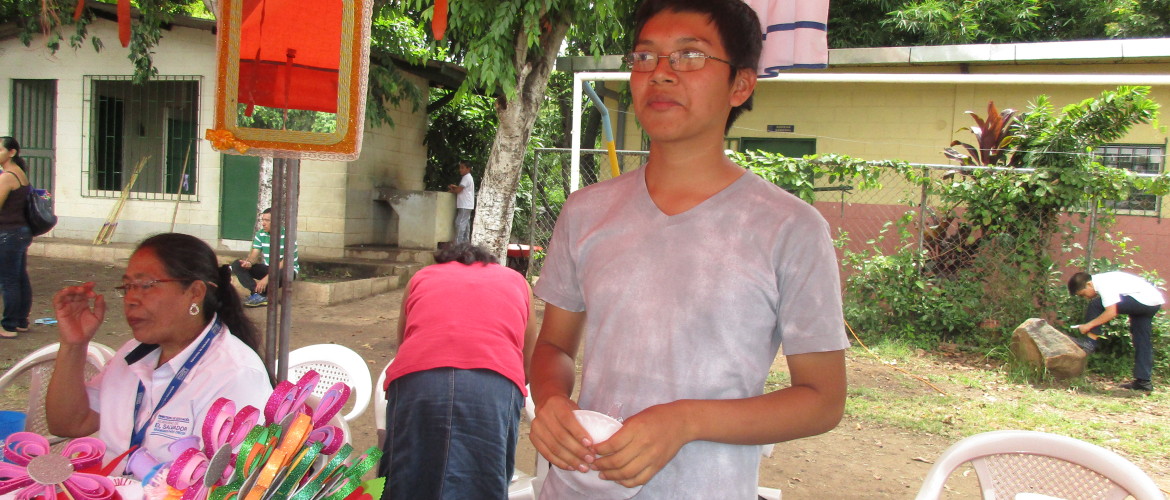 Arts and Crafts Workshop – just one of many programs featured during the Independence Day Celebrations
As part of the annual Independence Day festivities, COAR's school took the opportunity to shine a spotlight on its highly successful new workshops.  Pictured above, long time COAR resident Ignacio, shows off some of his creations from the Arts and Crafts workshop.  The day was extra special because following a series of patriotic and civic presentations, there was a Gastronomic Fetival which featured donated "typical dishes" from the region.  By highlighting the different kids and their activities, the school is hoping to build student interest in the programs and increase enrollment for the next academic year which begins each January.  Currently, more than 1/4 of the entire school population is involved in some sort of taller or extra curricular activity (250 of 900+).
The workshops are designed to attract and keep students engaged at school outside of the regular school day – in order to keep them safe and sheltered from the horrible gang violence that is destroying civil society.  In certain areas, the gang pressence is so great, parents are choosing to keep their kids at home – all day – instead of sending them to school.  For COAR, we want to keep our kids safe and away from any gang influence.  The kids are at greatest threat on their way to/from school each day.  So, following the regular school day, COAR kids can elect to participate in a series of well designed workshops:  Bread Baking Workshop, Peace Band, Sustainable Farming, Dress Making, Arts and Crafts, and various others.
Since these are electives, the kids come prepared to learn and to build new skills.  But, what they probably didnt realize in the beginning was how much fun and satisfaction these 'talleres' would generate!  From all accounts, the kids love these new programs!