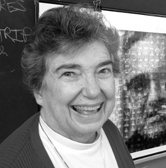 Sister Sheila Marie Tobbe's ministerial life of more than 50 years as an Ursuline Sister has taken a multi-faceted, ever-spiraling path.  She has taught Math and Science and Religion at Beaumont School. She was  involved on the staff of many urban parishes and in the formation of ministers for multi-cultural settings.  Sister Sheila Marie teaches non-violence and catholic social doctrine and has served on boards of national and local groups promoting Peace and Justice.  She directed Ursuline spirituality retreats and programs in the US, Canada and Mexico.  Many of her ministries involved supporting Works of Mercy in the Cleveland area.
Today she works in adult literacy tutoring with the Ursuline Institute of Learning and West Side Catholic Center.  She also works with spirituality programs for the homeless in Cleveland through The Metanoia Project, and provides spiritual companionship of young adults through Case Western Reserve University Newman Ministry.
She has done extensive missionary work in El Salvador focusing on the training of local leaders. Sr. Sheila has known COAR since its inception and was dear friends with Sr. Dorothy Kazel, OSU, and Jean Donovan, who both helped COAR get started.  They were martyred in in El Salvador on Dec. 2, 1980.  With this connection, Sr. Sheila's commitment to COAR has been strong.  She is currently a board member and a reliable advisor to its history and mission.