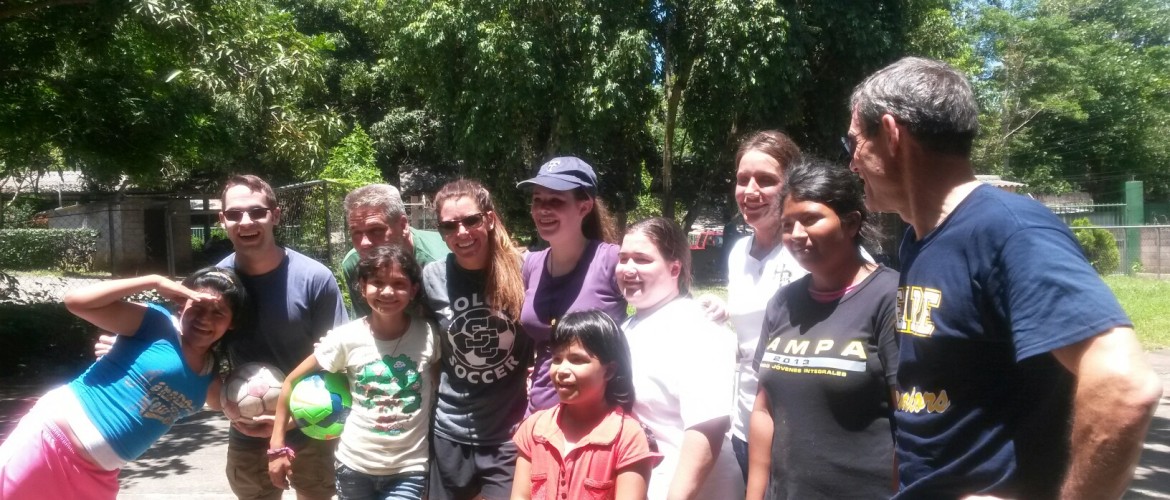 COAR Kids Love Visitors: Even If No One Speaks Spanish
COAR kids love to meet with visitors from the US and especially with their sponsors.  COAR has been very lucky to have hosted delegations from colleges, high schools and parishes from around the country.  Since few US visitors are bilingual, our official COAR delegations usually stay in-country for about 1 week.  During the week, US visitors actually teach English in the school to extremely eager high school classes.  Then, each afternoon, we plan an in-depth excursion to those locations of high relevance to Catholic Church history, the Salvadoran Civil War and Social Justice.  We visit Divina Providencia (where Romero was murdered), The UCA (Jesuit University where the Professors were murdered), the Chapel to the 4 slain Church Women, the Main Cathedral and Romero's crypt, etc.  It is a week of history, culture, and English-teaching – all the while surrounded by kids who simply cant get enough of you!
But, COAR also gladly welcomes delegations from other programs.  While there is no one on site who can speak English, if there is a Spanish-speaking person in the delegation, we can usually arrange for a visit to the school and a chance to play with some of our great 'internos'.  The truth is – even if they cant understand what you are saying – they love to see you and play with you.  For younger kids, you can draw and crayon.  For the older kids, you can try your luck battling the COAR kids in soccer or playing one of the newer games that they have invented.
COAR recently played host to a wonderful delegation from St Rita's of Solon.  This incredible group spent the night in our guest house and played with the kids.  Solidarity is COAR's key word.  While we might be able to find a wall for you to paint with your group, what we really want is your time, love and frienship with the kids.  The single greatest skill that you can give a Salvadoran today is the ability to Speak English.  It opens almost any career door.  So, by teaching English in the school for a week, you are truly helping a Salvadoran to build a skill that will one day, will feed his or her family.
Feel free to contact our Cleveland Office if you believe that you will be in El Salvador and wish to visit COAR.  Or, if you are interested in creating a Mission Trip or Delegation to El Salvador, contact our office to see if you would like to pursue a COAR-led adventure!  Thank you St Rita's for some great memories!