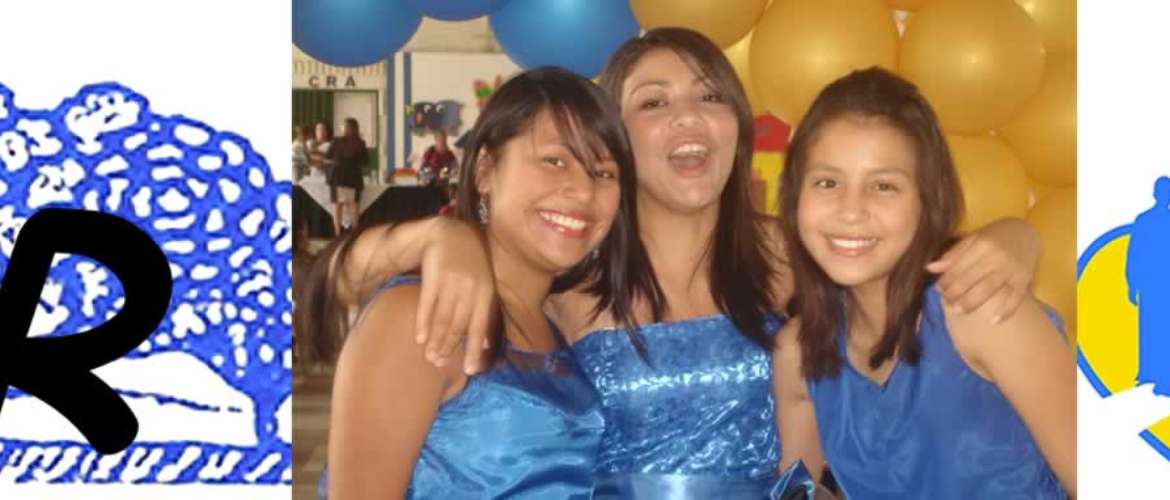 Two great new workshops: Dress Making & Handicrafts
Anyone with teenagers knows that kids are not always "motivated" by the intrinsic joy of traditional academics. Now, COAR offers several wonderful semester long workshops designed to supplement the traditional academic disciplines.  These workshops play a much larger role than you might, at first, suspect.   Pictured above, three graduates from the dress making workshop hug after modeling their own handmade creations before the school.
The DRESS MAKING workshop is an exceptional program for COAR kids.  Of the 225 kids enrolled in 5 different workshops, 25 are excited members of the "corte y confeccion" (dress making) workshop.  Not only does the workshop train the teens in practical, vocational skills, but also, it creates an opportunity for those kids who struggle academically to feel personal success and satisfaction when they can walk across the stage – modeling – the clothes that they have made with their own hands.  The dress making classes meet 8am – 11am or 1pm – 4pm Monday through Friday.  Depending upon the kids' schedule, they most likely take the class twice per week.
Several years ago, the government of El Salvador instituted a policy whereby each child receives 1 new uniform each year for free.  However, instead of buying cheap uniforms from China, schools must contact local, Salvadoran tailors and hire them to produce each uniform.  It is an incredibly wise program:  poor children receive new school uniforms while keeping all government funds within El Salvador – funneled back to local workers. It is quite possible that one of the children in our workshops, may one day, be making uniforms for their own former school.
Some children, heartbreakingly, come to COAR with little to no formal education.  Their parents never enrolled them in school but used them to care for their families or earn money.  The dress making workshop is the perfect introductory course for these kids.  The teachers can work with them to understand numbers and basic instructions. They are able to work alongside the other children and produce equal if not superior final products.  From this success, we can begin to integrate them into an academic setting.  It is an incredible door that can swing wide open for the children – igniting their desire to learn and to succeed.  The "manualidades" or handicrafts class teaches sewing, as well, as traditional arts and crafts skills.
Great things continue to happen at COAR!