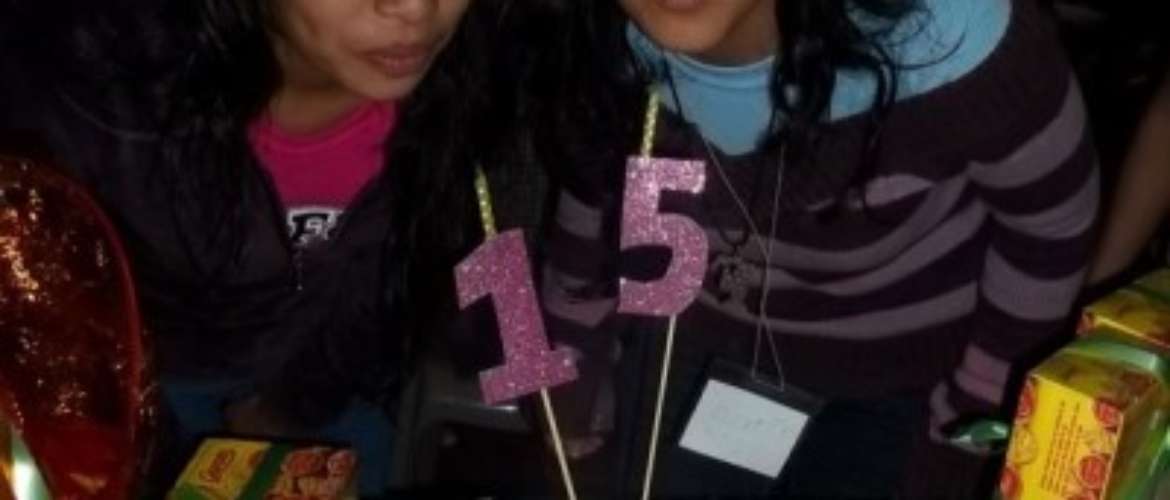 Feliz Cumpleanos! Happy Birthday!
Feliz cumpleanos a ti-
En tu dia feliz-
Feliz cumpleanos, mi carino-
Feliz cumpleanos a ti-
No matter what the words are, the sentiment is still the same:  love and celebration.  During the war years, children at COAR often came with no documentation. They may literally have wandered, alone, up to our doors – or, they may have been brought to us by a neighbor, town priest or distant relative.  In those dark days, it was not rare for a child to not know his own birthday.  Often, it would take years to even determine the proper and accurate spelling of his full, complete name.
Today, most of the children at COAR do know their birthdays.  Of course, in Latin countries, the big birthday for girls- the mother-of-all-birthdays, is the quinceanera – or the sweet 15th!   In our attempts to offer our children as much normalcy as possible, COAR recognizes birthdays throughout the year.  In order to organize these parties, each housemother identifies the children, each month, who are about to celebrate a birthday.  The housemother works with the other kids in the house to create banners and to decorate the house in honor of the birthday boys and girls.  Generally, the whole house celebrates all of the upcoming month's birthdays with a cake and celebration.
Unlike in Suburban America, kids dont receive birthday gifts of tablets, cell phones or video games.  Given the extreme poverty from which the kids come, there is a strong emphasis placed on sharing and avoiding 'personal' property.  It is truly a special birthday – the joy comes from recognition and love – not from toys and possessions.  Birthdays are so important at COAR, volunteers and visitors often find themselves surprised by a community-wide celebration of their birthday – complete with cake, song and dance in the Casa Comunal.
I still remember my 40th birthday at COAR.  I had specifically requested that the kids not be told of my birthday. Like many men, I was not looking forward to turning the clock from 39 to 40.  I remember sitting alone at a beach front restaurant;  watching the sun set over the Pacific Ocean;  thinking to myself,  "there goes my youth…".
Yet, upon my return to COAR, I found the entire community:  children, administration staff, housemothers and maintenance men waiting for me in the Casa Comunal – with grins, giggles and smiles that would have made the Grinch's heart melt.  There were banners, streamers, pinatas, signs and most importantly — happy children singing and dancing with joy.  Many of these children have no relatives and never get visitors.  But, here at COAR, whether you are a child, a teacher, a staff member, a maintenance man or a visitor, you ARE family!    And, you will get the biggest FELIZ CUMPLEANOS of your life!