In every little town in El Salvador (there are 262 of them!), you'll find, once a year, the fiestas patronales of that town. Originating as a celebration of the feast day of the town's patron saint, the fiestas are a cross between a county fair, a Miss America pageant, a fireman's carnival, an open-air food festival, and, at the heart of it all, a recognition of the saint that the townspeople look to for special intercession. From San Salvador to San Miguel, La Libertad to La Unión, Salvadorans from near and far travel to their hometowns during fiestas to celebrate with family and friends. The festival is usually about a week long, but almost always begins with a novena. Each evening, for the nine evenings leading up to the feast day, different groups or neighborhoods in town will host the novena as a statue of the saint is processed through town.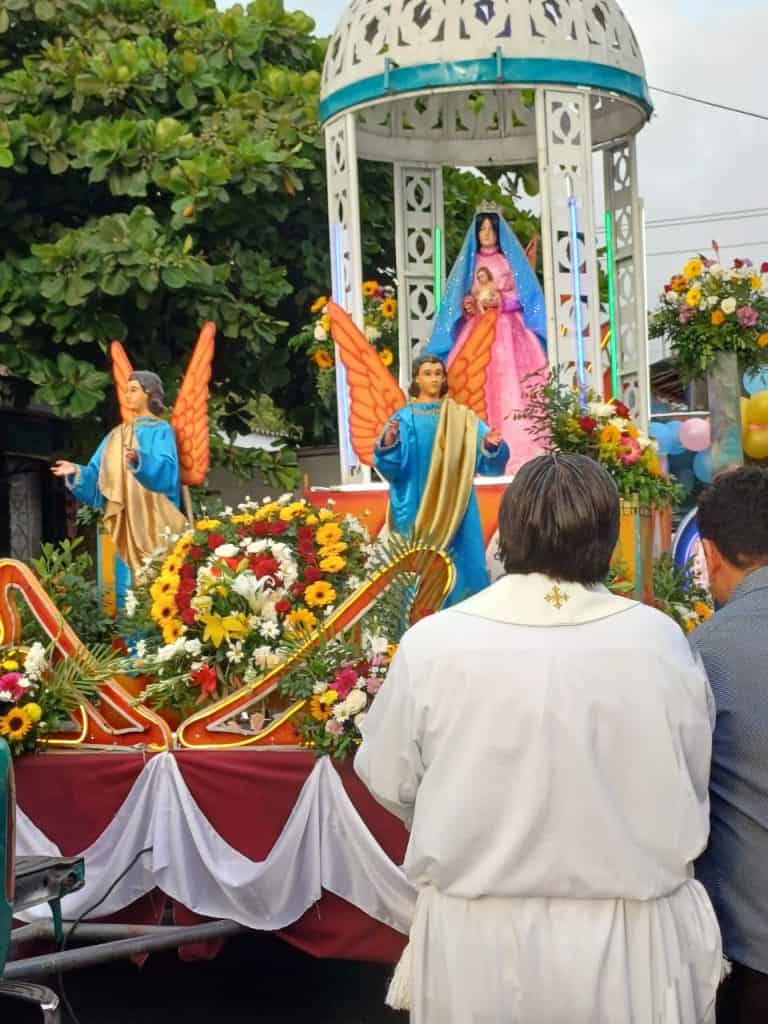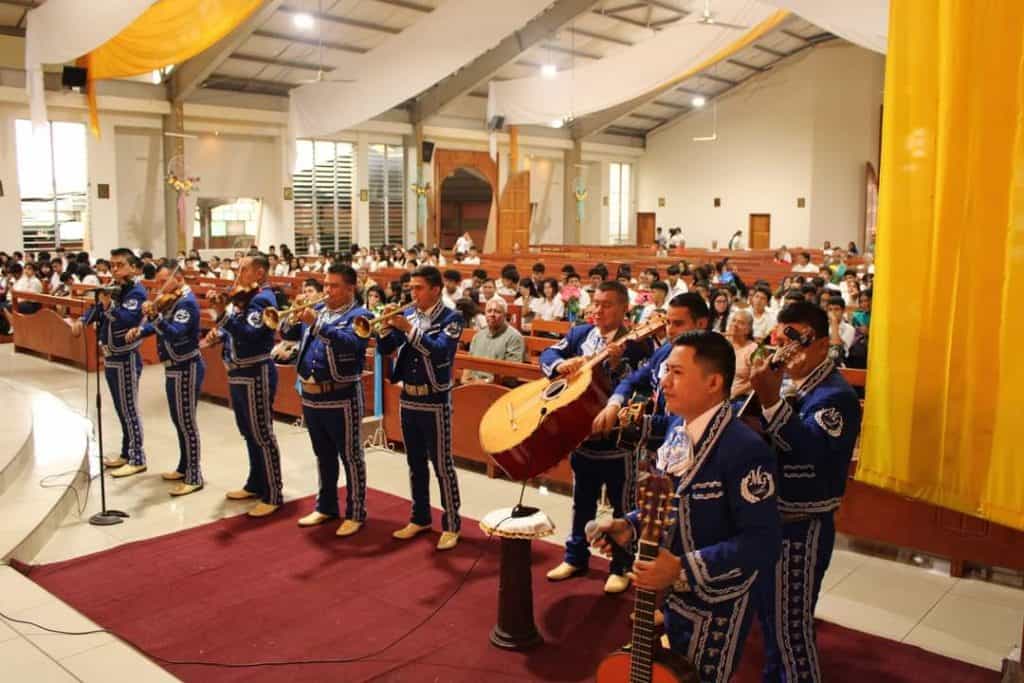 As the feast day draws closer, the festive atmosphere grows. School kids usually get a few days off, starting with the opening parade, headed up by the mayor and city council, followed by different business in town throwing candy to the crowd, maybe a marching band or batucada, a fancy drumline with dancers, clowns and stilt-walkers, and really anyone else who wants to tag along. Kids (and kids at heart) can spend the days of the festival enjoying live music and the ruedas, or different rides that come into town. Bumper cars and the Scrambler are always popular, and only the bravest dare to ride the Chicago, the Ferris wheel. There might be funny shows, pupusa eating contests, and traditional events like the palo encebado, with a monetary prize stuck on the top of a very greased-up telephone pole.
Pop-up food stands offer everything from grilled chicken to pizza to smoothies, but the most popular stands offer tostadas – thinly shaved strips of plantain, potato, or yuca, fried and served with a tangy coleslaw and hot sauce – and typical sweets like dried coconut or tamarind fruit, dulce de leche, and merengues.
Perhaps the biggest draw in rural towns is the jaripeo. While bull riding is the main attraction, of course, you can almost always count on a ballad singer in an oversized sombrero, some dancing horses, and a sheep-chase for the younger crowd.
On the big day, Mass is celebrated in honor of the patron saint in the morning, the rides and food stalls open early, and the town starts getting ready for the final event – the closing procession, featuring the new Miss who was crowned at a pageant earlier in the week, with a tiara on her head and a scepter in her hand.
Zaragoza celebrates its patroness, Our Lady of the Pillar, on October 12. Below are a few more images from the COAR school and the nuns at COAR, who also honor Our Lady of the Pillar as their patroness!