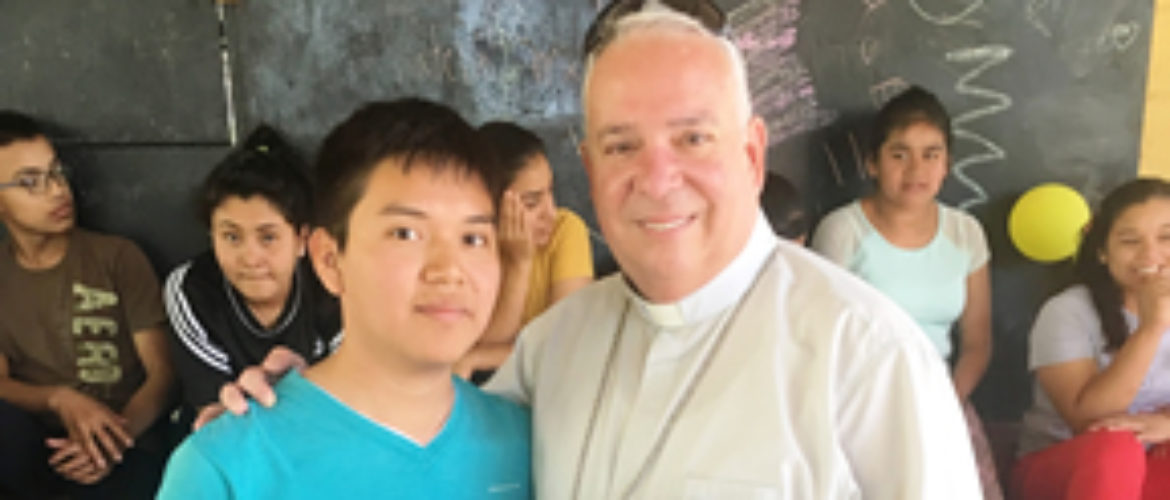 June 2019 – A Richness of Bishops
Bishop Perez of Cleveland Visited the COAR Children in December, The most recent in a rich legacy of bishops
Above, Bishop of Cleveland Nelson Perez with a big group of the COAR children in December 2018. He listened to the children, asking them, "What do you want for your future and the future of your country?" Ignacio turned the tables on the Bishop and asked him, "What do you want for the future?" Ignacio then presented Bishop Perez with one of his paintings.
Bringing It Full Circle: Left, Bishop Perez receives a framed print of St. Romero from Archbishop of San Salvador Escobar. Right, Cleveland Bishop Perez prays at the tomb of St. Oscar A. Romero, COAR's namesake.
Above left, Archbishop of San Salvador Rivera Damas visiting with Srs. Loyola and Audrey in the early 1980's, when the Incarnate Word Sisters of Houston Texas ran COAR. || Above center, Bishop (now Cardinal) Rosa Chavez visiting COAR in 2005. || Above right, Bishop Sáenz Lacalle, who succeeded Bishop Rivera Damas, and was succeeded by Archbishop Escobar, at COAR in 2005. || Current Archbishop of San Salvador Escobar greets Rosa at a luncheon with the COAR children in 2017.

Above, left, Bishop Lennon of Cleveland, visiting COAR in 2014, who succeeded Bishop Pilla (who was succeeded by Bishop Perez). Center, Bishop Pilla of Cleveland visiting COAR in 1981, one month after succeeding Bishop Hickey. Right, seated, is Bishop Hickey. He is pictured here with the Cleveland Latin American Mission Team in October 1980, months after COAR was founded, and two months before two of its members, Ms. Jean Donovan (sitting on his left) and Sr. Dorothy Kazel, OSU, (sitting next to Jean) were murdered by the Salvadoran army.