I DESERVE A PATH FREE OF VIOLENCE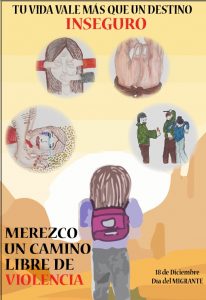 COAR Children designed this movie poster on emigration: "YOUR LIFE IS WORTH MORE THAN AN UNCERTAIN DESTINATION / I DESERVE A PATH FREE OF VIOLENCE"
The film school opportunity (featured in our news this month) started as a remote‑learning, creative outlet during the pandemic. But the first project topic that the children selected, emigration, went right to the heart of problems in El Salvador. You can see their awareness in the posters that they designed: violence along the journey, the heartbreak of those separated, and this phrase, "I DESERVE A PATH FREE OF VIOLENCE" 
Fixing the causes of emigration always, ultimately, belongs to the government.  El Salvador's President, Nayib Bukele, has been in the news this past month. He was elected in June 2019 for the presidency's single, five-year term.  In February last year he marched the army into the legislature to encourage funding for anti-gang measures.  This past February his party won a super‑majority in the election of legislators. This month that legislature voted to replace the attorney general and all five magistrates from the constitutional chamber of the Supreme Court, giving President Bukele control of all three branches of government. You can learn more with internet searches of your favorite news outlets. 
Most fear growing authoritarianism.  Within El Salvador many support the President, as demonstrated by the election landslide.  They feel he has been successful in reducing gang violence and in effectively dispersing economic aid during the pandemic.  To help with that aid El Salvador received a $389 million loan from the International Monetary Fund and is seeking more than a billion dollars more. A detailed analysis of these events is beyond a few paragraphs in the COAR News.
But we do have a 40-year perspective on how governance affects our children.  The government must provide openings for them: businesses free from criminal extortion; courts that effectively address corruption; police that respect everyone's human rights; good services in exchange for taxes paid and loans received.  In return they will keep the best children in the world: healthy, educated, resourceful, resilient, and hopeful.