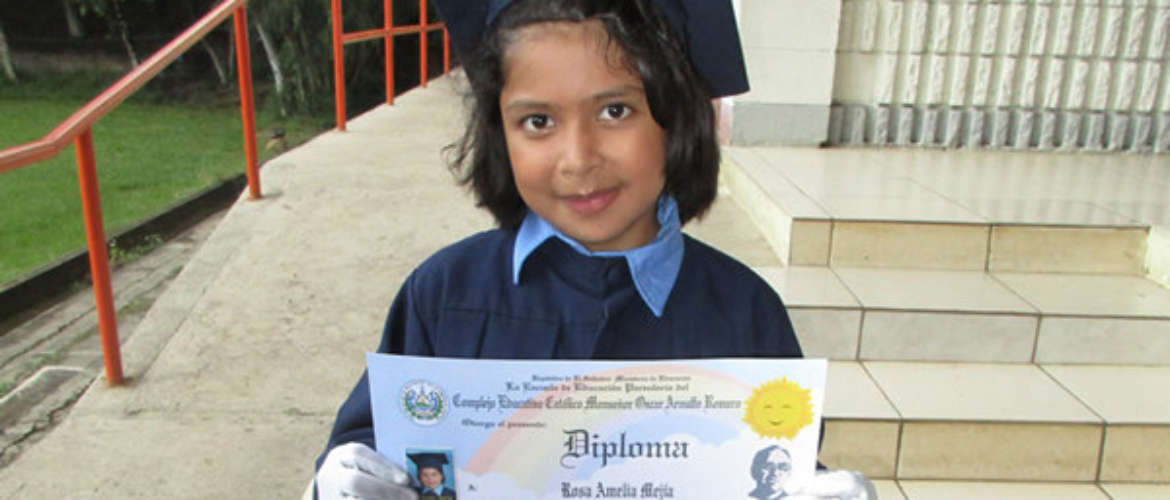 Kindergarten & High School Graduation 2015
The COAR family is proud to announce the graduation of three of our long time residents: Juan Carlos, Ingrid and Yesenia. All three of these young adults are talented, caring, hardworking and dependable. It is always sad to say goodbye to kids at graduation but we all know that everyone needs to leave the nest eventually. And, we hope that Juan Carlos, Ingrid and Yesenia truly soar.
We are also excited to announce that little Rosita has graduted from Kindergarten and will enter the 1st grade in January. Take a look at her picture – what a little darling! We can only imagine what the world will be like in the future when she is standing on that same stage as a COAR high school graduate.
For those unfamiliar with Salvadoran education, the school year runs from the middle of January until the middle of November. There is usually a one week vacation for Easter and a one week vacation in August – for the Salvadoran national holiday. But, the traditional June-August summer break that is so familiar to US citizens doesnt exist in El Salvador. The kids attend classes all 'summer'. But, November marks the beginning of the coffee and sugar cane harvest. While agriculture plays less and less of a role in the Salvadoran economy, the school year was set around the harvest season.
By mid November, the kids graduate and the schools let out for the Salvadoran summer break which also coincides with the Christmas season. Some rural communities still celebrate the annual Posadas – the recreation of Mary and Joseph's search for shelter – but, with gang violence on the increase, fewer and fewer communities celebrate these once great community-wide celebrations. Many families living close to the Pacific ocean will take the kids to the beach for Christmas, launch fireworks and eat a traditional chicken meal. Then, following New Years, the kids have a few days before returning to begin a new academic year.
Congratulations to all of the young people who graduated from high schools across El Salvador this past November!