---
COAR Co-founder, RIP:
Sister Audrey Walsh, CCVI, 1921-2015
---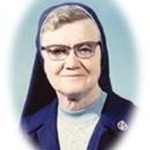 Those of you new to COAR might not know that our history goes back to 1980.  That is the year when Bl. Romero, Archbishop of San Salvador, was murdered. That summer, as the refugee camps filled, a priest, Fr. Ken Myers, a member of the Cleveland Latin American Mission (CLAM) Team, brought a few children back to his parish in Zaragoza. The town rallied-round, and COAR was born. Later that year, on December 2nd, four North American Churchwomen were abducted, tortured, and murdered by the Salvadoran military. Two were also on the CLAM Team, Sr. Dorothy Kazel, OSU, and Jean Donovan. The others were Maryknoll Sisters, Ita Ford and Maura Clark, MM.
Left to right, Srs. Mary Pat Driscoll,
Stan, Audrey, 1983
v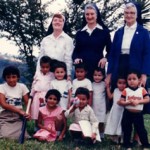 Sr. Audrey came to COAR in 1983 in the wake of that terrifying tragedy. Fr. Ken had been looking for a congregation of women to establish the orphanage buildings and daily life and the clinic. The Sisters of Charity of the Incarnate Word, Houston, Texas, responded. First to arrive were Sr. Audrey and Sr. Stanislaus Mackey, d. 2004. Sr. Audrey took over daily operations from Fr. Ken and stayed as COAR's Director for many years. Countless children think of her as their mother. All of our pictures of her include children hanging on her skirts. She was EXACTLY what you picture for a nun running a war orphanage: smart (cleverly disguised as funny), kind, brave, and incredibly gentle. It is she who established COAR's enduring culture of gentleness.
---
On The 'Net//
Sr. Audrey may have been born in 1921 but she lives
forever in delightful articles and videos. Do an internet
search for her and enjoy – including our 2015 Christmas
Card video, also found on our website, "extras".
Special Memorial Gifts