No one can replace a lost mother. But COAR is privileged to provide love and security to children who have lost their mothers. It is often sponsors, called "Godmother" by the children, that supply that sense of security, that someone cares what happens to them, cares what is happening in school, in their houses, in their hopes and fears. More than that, many mothers passed on their love of COAR to their children. Meet a few, and the children they have protected – with their gifts, their letters, and their love.
The Miller Sisters & Missy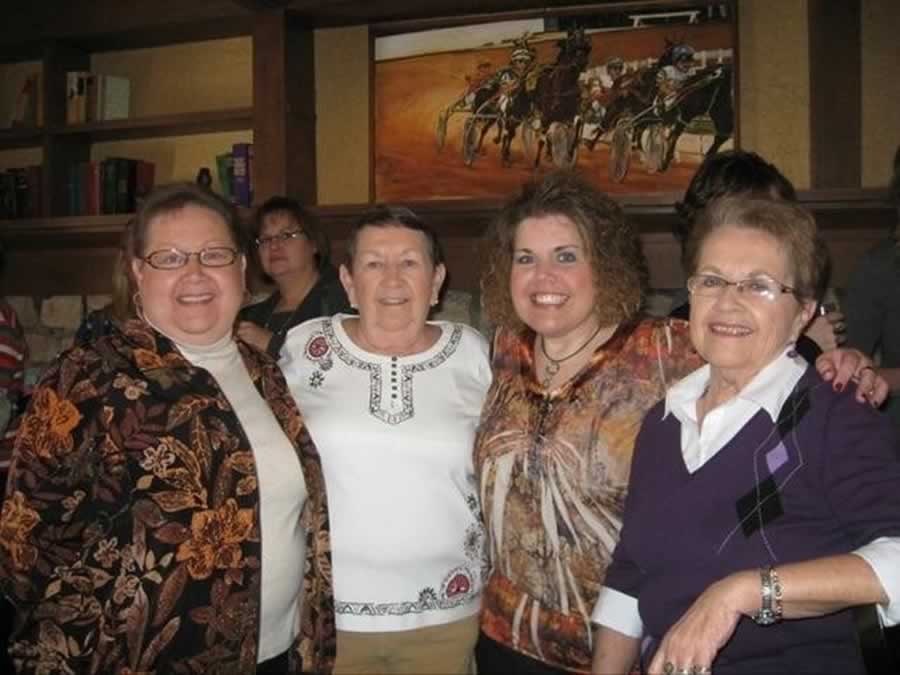 From Missy's e-mails of January 28 & 29, 2013:
Thanks again to the whole team at COAR for the work that you do. My Mom lives with her 2 sisters and we're all sponsors so it is fun to get letters in the mail and share updates about "our girls"!…it has been such a joy WATCHING Ingrid grow up through the years…Thanks again… with much gratitude… Missy Hi Mom, Janie and Judy! I've been emailing with Mary who is Executive Director at COAR and as a part of our conversation I mentioned how much we like getting updated pictures of our sponsored girls. I also asked her to let me know if there was anything I could do to help the cause of keeping them coming and she actually came back with an idea! [to print this e-mail exchange and a picture of the family] I don't see an issue with it and I know how photogenic you all are 🙂 so I say hey… why not! Missy
On a sad note, both Missy (age 44) and her aunt Judy (age 81) died unexpectedly last summer. They join the chorus of angels that watch over the COAR children, like all good mothers do.
Check out another post on Gamaliel and Judy Doppes
here
!
Joanne and daughter, Teresa
From Teresa's phone call in 2015: "My mother died last month. I discovered the COAR History and some newsletters among my mother's possessions. So, I would also like to support COAR. I was adopted from El Salvador when I was 10 years old. This will connect me to my mother and El Salvador."
Pauline and daughter Louise
Letter to sponsored child, Maria, from 2013:
Dear Maria, Thank you so much for your letter. We enjoyed learning about your studies, family and pastime interests. Our dear mother Pauline died last July. She was 97 years old. I am sure she is now at peace with God. My wife Louise and I have decided to continue your sponsorship in her memory.
Margaret and daughter Mickie
Mickie called to say that her mother, Margaret, died in November. Her mother's dying wish was that Mickie continue Margaret's sponsorship of Milagro. Dear Mickie, Thank you for your call today to tell us that your mother, Margaret, died in November. We are very sorry for your loss. I read her obituary and she must have been a remarkable woman to have raised you all after your father's death. You must have been very young. She certainly worked hard, and lastly for her church. Those are the people who really keep the Catholic Church organized and dynamic. Thank you, also, for continuing her sponsorship of Milagro…We will tell Milagro of the change of sponsor from your mom to you. If you have the time to write and tell her something of your mother, I'm sure she'd appreciate it. They understand suffering and loss, the COAR children do. As I said, I have an idea to do a newsletter feature on the number of sponsors who have taken over sponsorship from their mothers. I think there is something especially touching about that, a mother's legacy. You might also be interested to know that your mother's faithfulness since 1998 resulted in 215 gifts totaling $4,985.00. That is children's lives saved, plain and simple, beyond just her sponsored children. What a wonderful legacy. Of course, you are her wonderful legacy, too, and Milagro will be very lucky to have you as a sponsor.
Thanks, From: mickie
It is an honor to keep mom's sponsorship of Milagro going. That was one of her main concerns that we keep it up. One thing about mom, she would not complain. She was a strong woman. Our dad died when I was 8 years old and she was expecting my youngest brother (there are 6 living and one was stillborn). She was only 32 at the time. So raising 6 kids on your own was tough. She taught us to respect others and help if we could. She always had a strong faith in God. She loved her family very much.