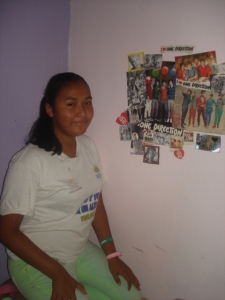 In a time when the entire world seems to be dividing among ethnic, religious, linguistic, and political lines, take comfort in one universal fact: teen girls across the globe stand together in their love for the same british pop band…One Direction! While in many ways life may seem quite different between El Salvador and suburban America, walking past a teen girl's bedroom in both countries can almost make you feel as if a portal has opened up connecting those 2 universal worlds: teen fandom.
In case you have never heard of the band One Direction, they are a 5 member Irish-British Boy Band who gained international fame in 2010 after appearing on X Factor. Since then, the once bare bedroom walls of countless teen girls have become home to life sized One Direction collages. Facebook pages, Tweets, and blogs are filled with pictures, odes, praises and marriage proposals to these new teen idols. While their album became the biggest selling album worldwide in 2013, perhaps better proof of their popularity and the universal truth which resides in teen girls' hearts is that even the bedroom walls at COAR, a tiny fostercare facility in the smallest Central American country are covered with One Direction pictures. Pictured above, COAR's own One Direction collage from one of our residences.
So, when the international news has you feeling depressed and beaten down, remember how hope and dreams of an incredible future live daily in the hearts and minds of teen girls everywhere.