For most US-based international charities, it is always our hope that faith and trust in the project can lead to the genesis of local-born support for the charity. The Board at COAR Peace Mission has always hoped that we could lead by example and one day build a volunteer or donor base within El Salvador.
While there are a multitude of historic reasons why Salvadorans aren't in a position to donate to charity, not to mention the economic reality of a country where the average MONTHY wage is $98-$250, thanks to our Director's leadership, Salvadoran businesses have begun to support COAR through donated supplies and volunteer service.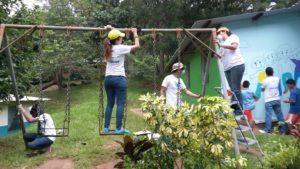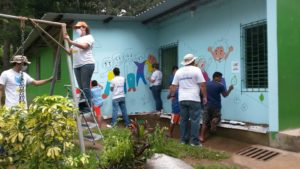 In 2016, two large multinational corporations donated all of the paint and supplies necessary to paint all of the residences inside and out. But, their contribution goes much further than simply donating paint and supplies. These two businesses encouraged their local employees to physically visit COAR and to stand shoulder to shoulder with the kids to help them paint the houses. Being the "Children's Village", these volunteers – your average neighbors – had the idea of creating colorful and joyful murals on the buildings to liven up the atmosphere. There can be no doubt that the appearance of one's house has an impact on one's attitude and outlook.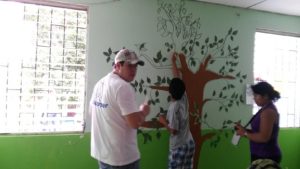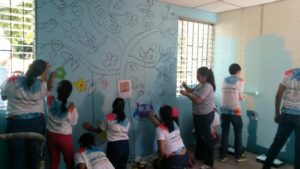 Working together, over the course of several weekends, these incredible volunteers showed their love for the kids and their hope for a better future for them. Although there are many reasons why it is financially difficult for a Salvadoran to support a charity, we have seen a significant increase in the number of church groups, parishes, and businesses that are willing to spend a Sunday afternoon at COAR – designing activities and programs, providing snacks, gifts and donations of food, clothing, and school supplies. In many ways, it is the time that they are willing to give to the kids that will be remembered long after the pinata has been smashed!
For those of us here in the US, word of these locally raised donations and the commitment shown by volunteers gives us further evidence that the mission is necessary and well respected among the people most closest to it. Salvadorans have so little to give that when they are willing to invest both their time and money, you know that this says something wonderful about your program.