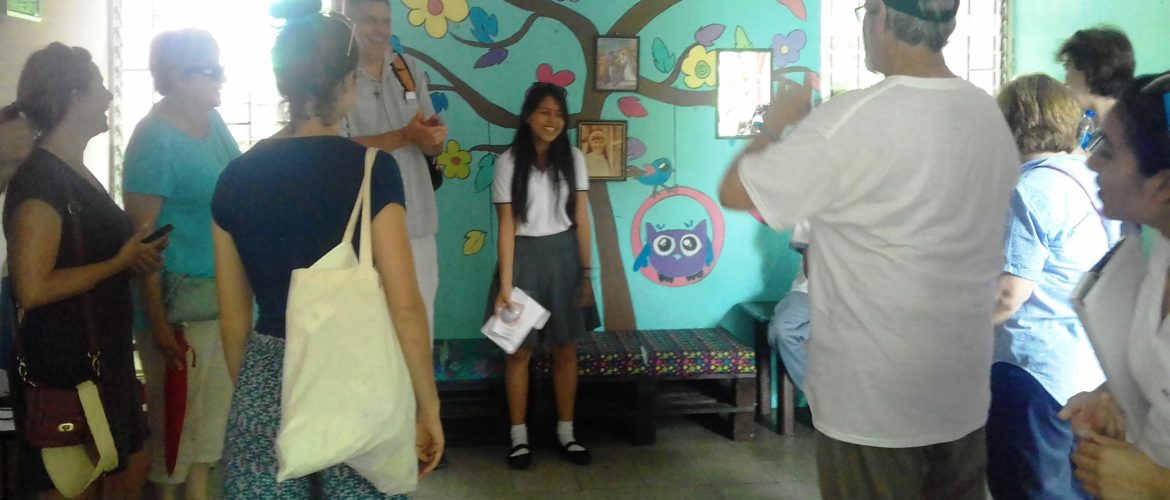 Sponsors Visit COAR & Teach English in the High School
A group of wonderful parishioners from St. Rita Parish, Ohio, traveled to El Salvador to visit their projects in the mountaintop town of Teotepeque and spent one morning teaching English at the COAR high school and visiting with the COAR children.
The day began by teaching four sections of high school English. But, this was not your grandmother's grammar lesson or your father's "conjunction junction" grammar through song lesson. Rather, it was a complete immersion experience. St Rita visitors broke into teams of two that worked with small groups of 3-6 Salvadoran students. The topic for the day "Waiter! Waiter! There is a fly in my soup". Through immersion, the visitors taught their students how to order a meal in a restaurant and then react when they find either a fly or hair in the food". The goal was to teach grammar and vocabulary through a realistic scenario that could also be funny.
At lunchtime, the group was joined by five COAR children who are all being sponsored either by visitors on this trip or parishioners back at St Rita. It was a rare and wonderful opportunity for the COAR internos to meet some 'real live US sponsors' on COAR grounds! Following lunch, the visitors were given a tour of the Children's Village lead by two of our wonderful internos: Stephanie and Raul. It was a short visit but there simply is no way to quantify how much the children enjoy meeting their sponsors and other US visitors. Should you be traveling in the area, consider arranging a morning of teaching at COAR's school and lunch with the kids. Of course, this will be an immersion experience for you too! None of our staff speak English!