COAR ~ the Community of Oscar A. Romero
Celebrates St. Romero's canonization October 14th 2018
COAR is the oldest extant organization to bear his name ~ more:
Celebrated in Rome!  COAR's Executive Director, Mary, and the Director of the Children's Village, Marta, were in Rome with 60,000 (yikes!) other St. Romero (and Pope St. Paul VI, and five others) fans.   
Celebrated at Cleveland's Cathedral Oct. 14th 5:30pm, (Click here to see the Diocese coverage)
Radio and TV interview with Ideastream, our local NRP/PBS station:
More detailed history of St. Romero and COAR's early days from our website (click here)
Lesson plans for grade school (click here)
St. Romero (b. 1917, Archb. 1977-1980, d. 1980) worked with members of the Cleveland Latin American Mission (CLAM) Team serving in El Salvador since 1964. Some photos of St. Romero with CLAM Team members, below.
Relevance today?  read any page on our web site, or, these articles, below, reprinted with permission of the authors:

THE CRIES OF CHILDREN IN THE NIGHT ARE SOMETHING, SADLY, I HAVE HEARD BEFORE, by Sr. Mary Ann Flannery, SC, July 2018
CELEBRATING THE CANONIZATION OF THE SAINT WHO HAS ACCOMPANIED OUR DIOCESAN MISSION IN LIFE, IN DEATH, IN SPIRIT, by Sr. Martha Owen, OSU, September 2018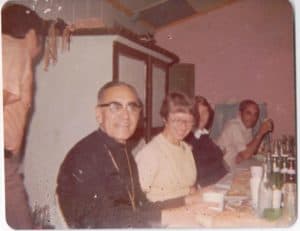 THE CRIES OF CHILDREN IN THE NIGHT ARE SOMETHING, SADLY, I HAVE HEARD BEFORE
by Sr. Mary Ann Flannery, SC
Despite having caved to the national and international pressure to rescind his inhumane policy of separating children from parents at the border, President Donald Trump has continued to divide our nation between those who care and those who simply do not.
Last month I caught a glimpse of a panel on Fox News on which pundit Ann Coulter angrily charged that some children in detention at the immigration centers at our borders who were calling out "Mommy" and crying were persuaded to do so. She implied these children may have been paid as actors to do this. Really?
Coulter's is a toxic statement meant to plant distrust in the audience against the tide of concern mounting on behalf of these children and their parents. The same charge had been made against the Parkland High School students who courageously stared down the reality that policies need to be re-evaluated concerning gun violence.
Hearing Coulter's inhumane salvos, arrogant and despicable as they were, immediately jolted a memory of something I experienced in the early 1990s in El Salvador.
At the height of the civil war in El Salvador, I visited two of our sisters who were serving as missionaries there. It was a visit unlike the several previous ones I had made due to the escalating war, which was producing a major crisis in orphaned children.
I stayed at the sisters' house, which was only a few feet from a newly formed orphanage, founded by a Cleveland priest, the Rev. Ken Meyers, where children from infancy to pre-teen years were taken in.
Meyers secured the dedication of Sisters of the Incarnate Word from Texas who could speak Spanish and most of whom had medical training. Local women in Zaragoza, the town where the orphanage was situated, offered their services to the sisters and all worked in shifts to care for the children. It was an example of the poor helping the poor.
During the first night of my visit, I found it impossible to sleep. From the orphanage came the anguished cries of children. I could hear the soothing voices of the women trying to calm them almost to no avail until overwhelming fatigue took over. At one point I jumped up to go to the orphanage only to be stopped by Sister Elizabeth, who informed me that military guards were stationed at the corner and instructed to shoot on sight anyone outside during the curfew.
And so I lay there. And what did I hear?
"Ma-mi, ma-mi." Over and over through tears and, in some cases, raging screams of the children. "Ma-mi. Ma-mi." Eerily, the same sound as "Mommy, Mommy." Children crying to the point of hyperventilation, crying for mothers and fathers, cries not even silenced by the sounds of gunfire echoing through a night of terror.
Over the last three decades, the orphanage in Zaragoza has grown immensely as an educational institution and a foster home for remaining orphans. Success stories abound, partly because the orphanage, called Communidad de Oscar Arnulfo Romero (COAR), after the martyred Archbishop Oscar Romero of the Diocese of San Salvador, has worked with a group of Clevelanders, also called COAR, which provides resources to help administer the ministry.
Years after this experience I read an interview with one of the sisters who had worked at the orphanage. Sister Stanislaus said, "It is the saddest thing in the world to see someone so young whose nerves are shot." She added, "What moves me most is their longing for love. They miss their parents so much they cling to you."
Perhaps the doubters of the cruelty going on at our borders should try to sleep one night outside where the children are being kept. Maybe the innocence of their cries would drive a wedge into the otherwise impenetrable arrogance of power. Sister Flannery, a member of the Sisters of Charity of Cincinnati, is retired from John Carroll University, where she taught journalism, and is now a writer and a director of retreats, locally and nationally.
---
CELEBRATING THE CANONIZATION OF THE SAINT WHO HAS ACCOMPANIED OUR DIOCESAN MISSION IN LIFE, IN DEATH, IN SPIRIT, by Sr. Martha Owen, OSU
I've decided that since I'm unable to go to Rome for the canonization of the greatest man I've ever known, I needed an outlet for my enthusiasm for this approaching occasion. I need to convince the Catholics of northeast Ohio that this soon-to-be-Saint is one of their own. I should know. He was my bishop almost 40 years ago when I served as a member of the Cleveland Latin American Mission Team in El Salvador.
A quick read of the history of those times revealed a nation erupting into civil war with its corrupt government undergird by an equally corrupt press. Truth was a critical victim of the revolution as it happened. Into this violent vortex throw an inconsequential church leader whose pious platitudes were empty sputtering. That was until the church leader allowed his words to speak of the realities being experienced by the pueblo. He himself was a witness to the violence against the people and especially in the unprecedented murder of a priest friend. A new God-energy born of his fidelity to the movement of the Spirit cascaded forth from his soul and began to escape through his lips. Archbishop Romero fearlessly spoke the truth.
Yes, my heart did burn when I heard him speak. His clear, unrelenting search for the truth propelled him to poke the eye of the murderous oligarchs holding power in the tiny, tortured country. Killing a priest became a patriotic call to duty. Not just killing but leaving behind tortured bodies to provoke fear was the norm for the tyrannical military. And the cover-up. Everything was cover-up. All news back then was fake news.
And perhaps it was because of the truth-less environment that the Archbishop could be heard speaking to truth like a marble falling into an empty metal drum. We all knew that for every word of truth he put forth, a bullet was being readied to silence him. And that day came. And so Archbishop Romero was martyred at an altar, offering Mass.
I had the great privilege of knowing Romero and learning some powerful lessons because the love of the church of Cleveland sent me to El Salvador. I received the love of El Salvador in return to bring back.
I saw simple farmers so desperate for the truth and the Truth-Bearer that they placed palm branches and flowers on the dirt road he would enter and cheered upon his visit to their pueblo.
I personally found myself climbing onto a church bench amid hundreds of campesino to catch a glimpse of the guru of Selfless Commitment at the end of a procession and applauding with Salvadorans his words of truth.
I had the heart thumping experience of hearing a truly eloquent homilist wrapping scripture around his pueblo in an effort to protect them.
I learned that the hierarchy was necessary and consequential when it was in tune to the Spirit of God as evidenced in the realities of the people.
I knew that Sr. Dorothy Kazel, because she was a person of trust to the people, asked to remain in El Salvador a little longer after Romero's death. Her death is directly linked to his.
And so, dear people of Northeast Ohio, celebrate with me this simple servant of God that we are all linked to through our 50 plus years of friendship with El Salvador through missionaries, their relatives, mission groups, twin parish connections, dental visits, medical clinics, eyeglass projects, high school visitors, seminarians and other stragglers numbering in the thousands and all attached to the saintly 'Step-Saint' Cleveland can claim in Saint Oscar Romero of the Americas.
Join us at Mass as we celebrate Archbishop Romero's canonization at the Cathedral of St. John the Evangelist on Sunday, October 14, 2018 at 5:30 p.m. Bishop Nelson J. Perez, Celebrant.
Come to the reception following (after the Browns victory) at One Cleveland Center where we can continue to rejoice with the pueblo of El Salvador. Sr. Martha Owen, OSU, is an Ursuline Sister living in Cleveland, OH, who served in El Salvador with the Cleveland Latin American Mission Team 1974-1979.