The Moment We've All Been Waiting For...
For nearly three years, we've been talking about the Community Film School. We've seen pictures of works in progress, meet-ups, and classes. We've heard about how COAR's kids are growing in skills, confidence, and experience. But we haven't (yet) seen any final projects. Now, after hours and hours of scripting, storyboarding, shooting, and editing…
El Tren de los Sueños (Rosa, Sara)
This paper stop-action short was created at an international meet-up of Community Film School students along with a young man from Guatemala. It notes that while many people migrate to achieve their dreams (opportunity, a better economic situation, safety, health, optimism, education), not everyone is able to achieve them and that all children and young people have the right to physical, sexual, mental, and moral integrity, no matter their migratory status or place of origin.
Las Noches Frías (Rosa, Sara, Mónica)
This claymation short, titled "Nights are Colder on La Bestia" and set to a song by the same name from Puerto Rican rapper Ñengo Flow, highlights the dangers of La Bestia, also called "the train of death", which forms part of many migrants' journeys north.
This live-action short, written and directed by COAR kids and filmed on COAR's campus, follows the story of Eduardo, a young man who decides to emigrate and gets lost along the way. He remembers his father's parting words – My son, what if something happens to you? Please don't go! – as the viewer finds out he never made it to his destination.
The video closes with a factoid from the UN's International Organization for Migration: from January to September 2021, Mexico repatriated 11,862 minors to El Salvador, Honduras, and Guatemala, an increase of 121% over 2020.
¿Porqué lo Hago? (Rosa, Sara, Mónica)
[Click through to watch on Facebook!] This claymation short answers the question of why people choose to migrate (for a better life, for their family, for food, to better themselves) and reminds viewers that all children and adolescents have the rights to life, liberty, and personal integrity, and that it is the duty of each country to guarantee these rights.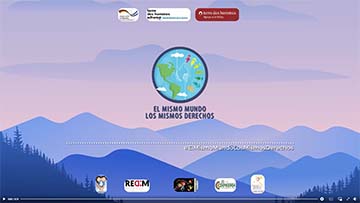 COAR's kids also created a series of podcasts (all in Spanish) based on interviews of migrants. These (along with works from the other participants in the Community Film School) can be found on ACISAM's Facebook page!